What is an aftertreatment system? An aftertreatment system is a method or device for reducing harmful exhaust emissions from internal-combustion engines. In other words, it is a device that cleans exhaust gases to ensure the engines meet emission regulations
A diesel particulate filter, or DPF, is a device comprised of a wall-flow substrate typically made of porous ceramic media that captures exhaust gas and removes PM or soot particles. A typical filter consists of an array of small channels for exhaust gas to flow. Adjacent channels are plugged at opposite ends, forcing the exhaust gas to flow through the porous wall, capturing the soot particles on the surface and inside pores of the media. As soot accumulates in the filter, a regeneration event will provide sufficient heat to oxidize and capture the soot. The remaining ash can be removed during regularly scheduled cleaning events based on the recommendations of the engine manufacturer.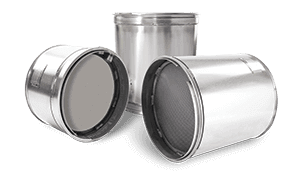 When maintaining your aftertreatment system you should weigh your options. While DPF cleaning is a cost-effective method for your first scheduled maintenance event, you can't always be sure of what is left behind. Each cycle can deposit hardened ash that is not removed with cleaning which will negatively affect performance. Back pressure is increased, porosity is reduced and the effective cycle is shortened requiring more frequent maintenance.
Replacing your DPF with a new Durafit DPF pays benefits in improved fuel economy, fewer active regens, and better performance.
Diesel oxidation catalyst (DOC) is a diesel engine after-treatment device, which consists of a ceramic/metal honeycomb substrate coated with high activity precious-metal-based oxidation catalyst, packaged in a stainless steel container. The diesel oxidation catalyst is designed to convert carbon monoxide (CO), hydrocarbons (HC), and the SOF fraction of particulate matter into carbon dioxide(CO2)and water (H2O).
Durafit Diesel Oxidation Catalyst (DOC) Features:
Excellent oxidation performance;
Low light-off temperature for HC, CO, and SOF;
High conversion efficiency.
Active catalyst ingredients: Proprietary Aristo catalytic coatings
Cell density: 200 CPSI, 300CPSI,400CPSI.
Diesel Oxidation Catalyst (DOC) Function:
Oxidize HC and CO in diesel exhausts gas emission.
Oxidize the SOF of particulate matter (PM).
Partially oxidize the SOOT of PM.
As the first stage of the SCR catalyst, oxidize NO into NO2 to improve the conversion efficiency of NOx.
Enables additional passive regeneration in DPF system.
Durafit Aftermarket DOC filters – Available for a wide variety of heavy-duty and medium-duty on-highway diesel applications including: heavy-duty trucks, medium-duty trucks, school buses, motor coaches, shuttle buses, and light-duty diesel pick-ups. Each Durafit DOC is designed as a direct replacement for the OEM filter. Our exact fit approach makes installation fast and easy without cutting or welding to get you back on the road. Durafit DOCs are designed and manufactured in the USA.
Durafit DOCs are new, never rebuilt, with no core required.
WHAT CAUSES A DOC TO FAIL?
Left to themselves, DOCs rarely fail. If they do, it is usually caused by a failure up stream
Visit our FAQ page to see a full list of the most frequently asked questions or get in touch with us by submitting an inquiry through our contact us page.
ABOUT DURAFIT
Learn about what Durafit has to offer and discover why Durafit is the leading aftermarket heavy-duty manufacturer.
support
Have questions? Need support? Visit the support page and complete our support form.
PRODUCTS
View our Durafit and DieselTech product line.